Dr. Indira Pillay-Rego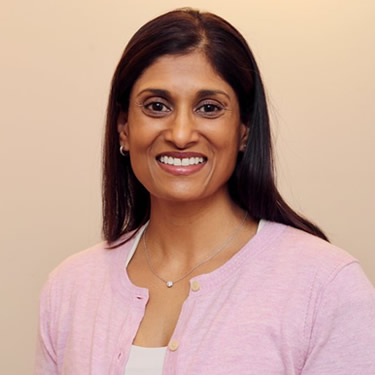 I love being a part of someone's health care journey. It's amazing to watch people optimize their health potential.
Dr. Indira's introduction to chiropractic began when she was 2 years old. Her mother and father (who was a family physician) immigrated to Canada from South Africa in the 1960s. After their arrival, her father learned about chiropractic and its philosophy of the body being self-healing and self-regulating. It made him decide the entire family should see a chiropractor. They have ever since!
The benefits Dr. Indira experienced included not having any more ear infections, getting fewer coughs and colds and the decreased use of antibiotics. Her parents had more energy, and less heartburn, headaches and pain. Early on, Dr. Indira knew she wanted to go into health care. Chiropractic offered a holistic approach to helping people stay well. While getting out of pain is essential, it has the ability to get your body functioning at its best levels.
Educating and Training
Dr. Indira's education includes a Bachelor's Degree (honours) and Master's Degree in Genetics from the University of Western Ontario. Then, she went on to Canadian Memorial Chiropractic College, where she met Dr. Paul.
During her years there, the education she received from her family was reinforced. From a long line of midwives, Dr. Indira had knowledge passed down from generations to her. She learned about the same things in college, which told her that she was in the right place at the right time in her life.
The additional qualifications Dr. Indira holds are
Acupuncture Foundation of Canada Institute Certified
Certified Graston Provider
Getting to the Cause of Your Concerns
With Dr. Indira's science-based background, she is an outstanding investigator in getting to the root cause of your problems. She can quickly and efficiently determine the best course of action to reach your individual goals. "I'm passionate about what I do and watching my patients progress through care."
The many types of patients Dr. Indira sees include those who have had problems with their posture, digestion, headaches or lower back pain. With care, they got better and learned about how to maintain optimal health. She enjoys having pregnant women as patients, who often had fertility concerns before starting care. Others weren't adjusted during a first pregnancy and had a difficult experience. During a second pregnancy, they began care and had a much better pregnancy, labor and delivery.
Dr. Indira and Dr. Paul are blessed with a son and daughter. Both are active and get adjusted regularly to stay healthy. When she isn't driving her kids to their various activities, you can find Dr. Indira at her favorite stress release place – the gym, where she takes CrossFit and spinning classes. Food, grocery shopping and cooking are her other passions, and she loves to experiment in the kitchen.
Contact our team now to schedule your first appointment! Same-day visits are available at Martindale Chiropractic & Wellness Centre.
CHIROPRACTIC CARE »

Dr. Indira Pillay-Rego | (905) 685-5635